We made a comprehensive list of the best Yoga Alliance certified 200-hour yoga teacher training program schools in Norway and Sweden that you can avail if you want to become a Yoga teacher.
Practicing yoga can be a satisfying feeling because it will give your mind and body immediate relief from stress. Probably some of us want to take it to the next level by imparting their knowledge in yoga to other people.
There are several reasons why people want to transform themselves from a yoga practitioner to a teacher. If you are living in the Scandinavian countries such as Sweden and Norway and want to take a YTT program then we made a list of the schools that are worth checking out.
Atman Yoga School – Trondheim / Oslo, Norway
This yoga teacher training school offers a course that focuses on teaching the philosophy of yoga and Ayurveda, and also the eight limbs of yoga.
The training program teaches specifically the ancient traditions of yoga, in such a way, the application of yoga in modern time will be easy. The things they teach here include different alignments, philosophy of yoga, pranayama, chanting, meditation, business yoga, anatomy and the things you need in order to teach yoga effectively and confidently.
Sivasoorya – Røldalsterrassen, Norway
This yoga teacher training school makes their students professional and effective yoga teachers in the future. In order to do that, they teach their students the essential skills and knowledge needed in order to teach and practice yoga effectively.
The teacher that leads this training program is Guru Raviji, he is from India and has taught already over 4000 students that are now yoga teachers. This course focuses on hatha yoga, physiology of yogic practices, philosophy of yoga, and anatomy.
Norway Power Yoga – Sandefjord, Norway
Norway Power Yoga is one of the yoga teacher training school that is certified by the Yoga Alliance. This training program assures their students that when they completed their course, they'll immediately get their certification.
Their main goal here is not only to teach the different yoga techniques but also developing one's personal growth. They will also teach about the science, history, and philosophy of yoga.
Ishta Yoga – Oslo, Norway
The main goal here at ISHTA Yoga is to let aspiring yoga teachers know the different techniques of yoga and learn how to apply it in their own way of teaching and skills.
This training program focuses more on the personal growth of a person through the different aspects of yoga. The same time the person learns, the person grows.
This training program also teaches in-depth knowledge about yoga, supporting it with spiritual aspects together with the modern teachings of yoga with a mixture of the traditional one.
Urban OM – Stockholm, Sweden
This yoga teacher training school is one of those that focus on a person's growth and self-transformation. They will teach you here the skills needed in teaching yoga.
The specific things they teach here include pranayama, asana, teaching skills, anatomy, relaxation, and the philosophy of yoga. The course lasts for over 8 months and will be having modules that last for about 3 to 7 days long.
Atmajyoti Yoga – Stockholm, Sweden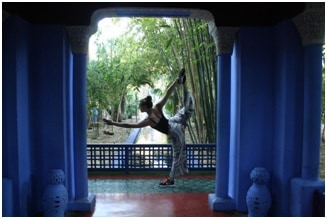 In this yoga teacher training school, they allow their students to freely explore and discover the techniques and skills they needed in order to teach yoga based on their personal path.
There will be three parts on the course, the first one focuses on physical training, while the second one is all about meditation, this will help the students to concentrate and focus on the training. And for the last part, the third one, they'll be teaching the students the philosophy of yoga that can help them in their personal growth.
Yandara Yoga Institute – Skinnskatteberg, Sweden
This yoga teacher training school focuses on teaching the skills needed for a student to teach his/her own yoga class. These skills include pranayama, how to handle a class, making sequences with confidence, proper postures, and the philosophy of yoga.
You can use this training in order for you to understand the different aspects of yoga and find the right style that fits you. Finding the right one and practicing it effectively will help you out in teaching that same style to others with ease.
Take Away
Experience a profound transformation through our diverse Online Yoga Teacher Training programs. Whether you're new to yoga or an experienced practitioner, we have the perfect training to suit your goals. Immerse yourself in our 200-Hour Online Yoga Teacher Training, where you'll develop a strong foundation in yoga philosophy, anatomy, and effective teaching techniques. Enhance your skills with our Advanced 300-Hour Online Yoga Teacher Training, exploring advanced asanas, pranayama practices, and the art of sequencing. For those seeking the ultimate mastery, our 500-Hour Online Yoga Teacher Training combines ancient wisdom with modern approaches. Join our vibrant community of dedicated yogis and embark on a life-changing journey from the comfort of your own home. Enroll today and unlock your true potential as a yoga teacher.