100-Hour Online
Vinyasa Yoga Teacher Training
Unlock Your Potential: Transform Lives Through our 100-Hour Online Vinyasa Yoga Teacher Training – Empower Yourself to Empower Others!
Course Language: English
Subtitles: Arabic, Chinese, English, French, German, Italian, Japanese, Korean, Russian and Spanish.
Notes: English
Get Full Access
Are You Struggling to Find Time for Traditional Yoga Teacher Training?
We understand that life can get hectic, making it difficult to commit to attending in-person yoga teacher training sessions. That's why we've designed our online program to provide you with the flexibility to learn and grow as a yoga teacher at your own pace and on your own schedule.
Is the High Cost of Yoga Teacher Training Holding You Back?
Traditional yoga teacher training programs can be expensive, often requiring significant financial investment.
Our online training offers an affordable alternative without compromising on the quality of education.
Get certified without breaking the bank!
Get Full Access
Feeling Limited by Geographical Constraints?
Don't let distance or location be a barrier to your dreams of becoming a yoga teacher.
With our online training, you can access high-quality instruction and guidance from experienced yoga professionals, no matter where you are in the world.
Get Full Access
Are You Seeking a Supportive Community of Like-Minded Individuals?
Join our online yoga teacher training and connect with a vibrant community of aspiring and experienced yoga teachers.
Engage in discussions, share experiences, and build lifelong connections with individuals who share your passion for yoga and teaching.
Get Full Access
What Our Students Are Saying
Manoj Raghavani
Manchester, United Kingdom
"I completed the teacher training and I was completely blown over with the structure of the course and received wonderful guidance from them.
They were so quick to reply and give feedback. I highly recommend this school as it's like one big family. I have learned so much and will continue my yoga journey onwards, I loved the philosophies too, that's something I will always cherish from the bottom of my heart"
Damaris Gissell
"Siddhi yoga was the best option that I could choose for my Yoga teacher training. I am glad to know how they teach; this school is not just exercises and poses.
Siddhi Yoga has a relationship with each student, helping you to grow spiritually and physically in Yoga. Love the combination of all types of yoga, the focus on each asana, the explanation of spiritual and physical benefits, and how this school teaches.
Also, love the knowledge given through Patanjali Yoga Sutra that they teach. This School helps me with the Path to being the best in all ways of my life and being a good teacher. Thank you so much to all teachers for supporting me. Namaste"
Lauriah Nella
"I have just finished the 200H online yoga teacher training course and it was incredible! So much more than I had expected!
The teachers are so talented, grounded and just heartwarming. I didn't expect to learn so much. They really do cover everything you need to know to be a good yoga teacher and they teach it with such ease and passion. All the teachers love teaching and care for their students, you feel that all the way through. I feel like I am truly a part of the Siddhi Yoga family now. Thank you to the whole team, for all that you have given me and are giving the world."
Struggling to Balance Your Existing Commitments with Traditional Training?
We understand the demands of modern life can be overwhelming.
Our online program allows you to pursue your yoga teacher training goals without disrupting your current responsibilities.
Fit your training into your busy schedule and take the first step towards a fulfilling yoga teaching career.
What's included in the Online 100 Hours Vinyasa Yoga Teacher Training Course?
100 Hours Yoga Alliance Certification
100+ Hours of Self-Paced Training
140+ Video Lessons
World Renowned Yoga Gurus from India
Daily Live Sessions
Support and Mentoring
Lifetime Access and Updates
Online Student Community
Digital Manual
Learn From Real Yoga Masters
Not able to come to India, the birth place of Yoga?
Don't worry, top yoga masters from India are reaching out to you.
Get Full Access
Learn from Yoga Gurus who have
trained thousands of students

worldwide.
Yogacharya Atul Mishra
Mastery: Vinyasa Yoga, Hatha Yoga, Ashtanga Yoga, Iyengar Yoga, Yin Yoga, Sivananda Yoga, Power Yoga
Atul Mishra was Born in a small hometown in Uttar Pradesh. He started his Yoga journey at an early age as it is his family background. From childhood, he has been trained by his family members in yoga Practice, and he has always loved practicing Yoga. That is why he decided to pursue his career as a Yoga Teacher. After completing his Degree in Bachelor in science, he didn't feel right, so he decided to study further in yoga. He started his Yoga education at one of the prestigious institutions, Kaivalyadhama Institute, Lonavala, in 2011, where he did his PG Diploma in Yoga. When he started, he did not know how he would make Yoga his career, but he kept one thing in his mind, he would be consistent in his Self-Practice. In his yoga career, he has learned various styles of yoga under different gurus.
So far, he has conducted more than 20 Yoga teacher training and workshops in Singapore, Bali, Jakarta, China, and Vietnam, where more than 1000 students have appeared. He has specialized in Vinyasa, Ashtanga Vinyasa, Hatha Vinyasa, Antigravity Yoga, Iyengar Yoga, Sivananda Yoga, Yin Yoga, and Power Yoga.
Now, he can proudly say that he has worked in multiple Asia-Pacific countries. He started his teaching in Zhoukou, China. Later in 2016, he shifted to Indonesia for Yoga teachings. He did not realize when Indonesia would become his second home as he worked there for over five years. To name a few companies that he has worked with, such as but not limited to Just Yogafit, Yogacity, Star Yoga, etc. Moreover, he has worked in various roles, such as Yoga Team leader, Yoga Teacher, wellness consultant, and Master Yoga Trainer.
Atul Mishra believes that Learning Should never be Stopped. Yoga motivates him to become a better person and Helps him to live life in a better way. He practices yoga not as an exercise but as a way of life.
Why Learn with Siddhi Yoga?
At Siddhi Yoga we offer unparalleled instruction and value, all in a warm supportive setting
often described as family.
In this age of Commercialism It's almost impossible to find yoga teacher training that offers
both depth and affordability.
We're on mission to change that.
Top Indian Yoga School
Siddhi Yoga is one the top schools providing globally recognized Yoga, Ayurveda and Meditation courses since 2013.
Our well structured online courses have touched and improved thousand of lives.
We have also trained 3000+ yoga teachers from 125+ countries.
5 Star Ratings
We are the only school among 550+ Yoga Schools in India with over 300 5-Star Facebook reviews and over 500 Video Testimonials.
(All our Certifications are globally recognized and valid lifetime.)
Real Yoga Masters
In our 100 Hour Vinyasa course we have teacher who is expert in his field.
He has trained thousands of Yoga teachers worldwide.
Rest assured when you enroll in any of our courses, you are sure to get value beyond your expectations.
What You'll Learn from Our 100 Hours Vinyasa Yoga Teacher Training?
Vinyasa yoga teacher training course is a transformative journey that equips individuals with the knowledge, skills, and confidence to become skilled yoga instructors. Through in-depth study and practice, students learn the art of Vinyasa yoga, which involves seamlessly linking breath with movement in a dynamic and flowing sequence.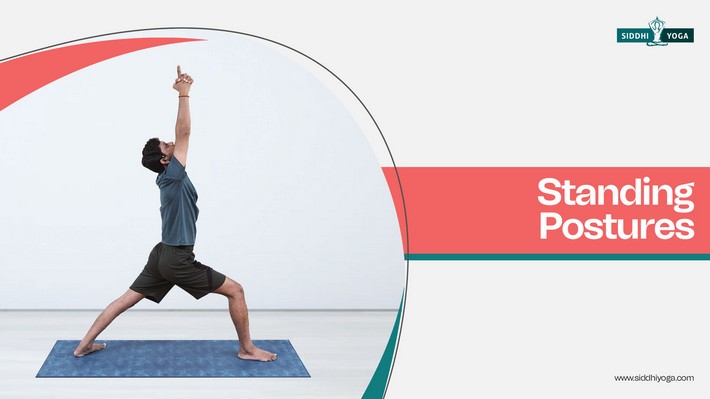 Standing Yoga Poses
These poses build a strong foundation by improving balance, stability, and posture. Students will develop leg strength, increase flexibility, and enhance body awareness. Standing poses also help calm the mind and improve focus.
Supine Poses
Supine poses promote relaxation, release tension in the back and spine, and alleviate stress. They're ideal for winding down and improving overall body comfort and ease.
Prone Poses
Prone poses strengthen the back and improve spinal alignment. These poses can alleviate back pain, enhance core strength, and promote better posture.
Sitting Poses
Sitting poses are excellent for increasing flexibility in the hips and improving posture. They can help students find comfort in seated meditation and enhance mindfulness.
Arm Balancing Poses
Arm balancing poses develop upper body strength, coordination, and body control. These poses boost confidence and encourage students to overcome challenges both on and off the mat.
Inversion Poses
Inversions, like headstands and handstands, offer numerous benefits, including increased blood circulation, improved lymphatic system function, and a fresh perspective on life. Inversions also build upper body and core strength.
Teaching Methodology
This teaching methodology module equips aspiring yoga teachers with essential skills to effectively plan, sequence, and instruct Vinyasa yoga classes. It fosters confidence, creativity, and alignment expertise, empowering them to guide students safely and authentically on their yoga journey.
Vinyasa Yoga Sequences
Our course offers diverse Vinyasa yoga sequences for different levels, enabling aspiring teachers to tailor classes for various students. It enhances adaptability and ensures they can create inclusive, challenging, and accessible practices that meet the unique needs of their future students.
What's Different About Our Yoga Teacher Training Course?
100% Pure Vinyasa Yoga
Our specialized Vinyasa-focused teacher training course hones in on the heart of teaching Vinyasa yoga. It empowers aspiring instructors with comprehensive knowledge and skills in sequencing, alignment, breathwork, and teaching techniques specific to Vinyasa. By omitting extraneous subjects like Anatomy and Philosophy, we streamline the learning process, ensuring our students become confident, effective Vinyasa yoga teachers ready to lead transformative classes.
For Everyone
Specially structured for teachers however anyone who wants to advance the perspective of Yoga and dive deep holistically, would benefit from this incredible course.
Even if teaching yoga is not the goal.
Pricing Options
3 Monthly Installments
$145 USD/month
3 monthly Intallments
Certification Available
100 Hour Yoga Teacher Training
Digital Training Manual
Full Payment
$435 USD $347 USD
Full Payment
Certification Available
100 Hour Yoga Teacher Training
Digital Training Manual
100% Secure Payment
If you are not happy after your purchase, do let us know within 7 days of purchase and we will refund you 100%. We're here for you
In case you are wondering
Q. Do I need to register with Yoga Alliance in order to teach?
Q. Do I need to be Yoga Alliance Certified in order to teach?
Q. Do Yoga Teachers Make Good Money?
Q. Do you offer 300 Hour and 500 Hour Online Training?