So you want to become a professional yoga teacher?
Congratulations!
You're in the right place!
In order to make this guide complete, today we're going to take a look at the best yoga teacher training schools in Bali.
But first, we want to answer some of the most asked questions from people who want to become future yoga teachers.
Yoga Teacher Training Bali
Bali, the most famous island in Indonesia, is known as the "land of the gods" for good reason. Many call it paradise on earth, and you probably will too after you've seen its looming volcanoes and lush, terraced rice fields that exude serenity. The beautiful nature surrounding Bali is one of the best reasons you should choose it as a destination for your Yoga Teacher Training.
Yoga Teacher Training Cost in Bali Comparison
Many excellent yoga teacher training schools with well-known instructors and high teaching standards can be found in Bali Indonesia 80351. Most teacher training in Bali, Indonesia is at least a year-long, with weekend training days to accommodate Baliers' busy schedules, but one-month intensive courses are also available. The top 10 best Yoga teacher training programs in Bali are listed below.
Bali YTT Teacher Training Comparison
| Bali Yoga School | Price From | Duration | Yoga Style |
| --- | --- | --- | --- |
| Santosha Yoga Institute – Nusa Lembongan | $2500 | 28-day intensive | Hatha |
| Shades of Yoga – Ubud | $2950 | 5-weeks full time | Hatha |
| akened Life School of Yoga – East Bali | $5395 | 26 residential days | Vinyasa |
| Zuna Yoga – Ubud | $4475 | 25 residential days | Hatha |
| Shivakali Yoga – Ubud | $4650 | One month intensive | Vinyasa |
| Yoga Cara – Tejakula, North Bali | $5200 | 34 residential days | Hatha |
| Forrest Yoga – Ubud | $3850 | 25-days intensive | Forrest Yoga |
Bali YTT Teacher Training Online Comparison
Yoga students can choose from a variety of high-quality online yoga classes streaming platforms and yoga programs, which vary in quality, length, video channels, and yoga subscription models, among other factors. We've compiled a list of the best yoga streaming classes for you to choose from.
| Bali YTT vs Online | Bali | Online |
| --- | --- | --- |
| Full YTT Cost | $2500 | $397 |
| Yoga Instructor Training Duration | 200 Hours | 200 Hours |
| Yoga Alliance Certified | Yes | Yes |
| Training videos recorded | Yes | Yes |
| Live sessions with teachers | Yes | Yes |
Siddhi Yoga International – Ubud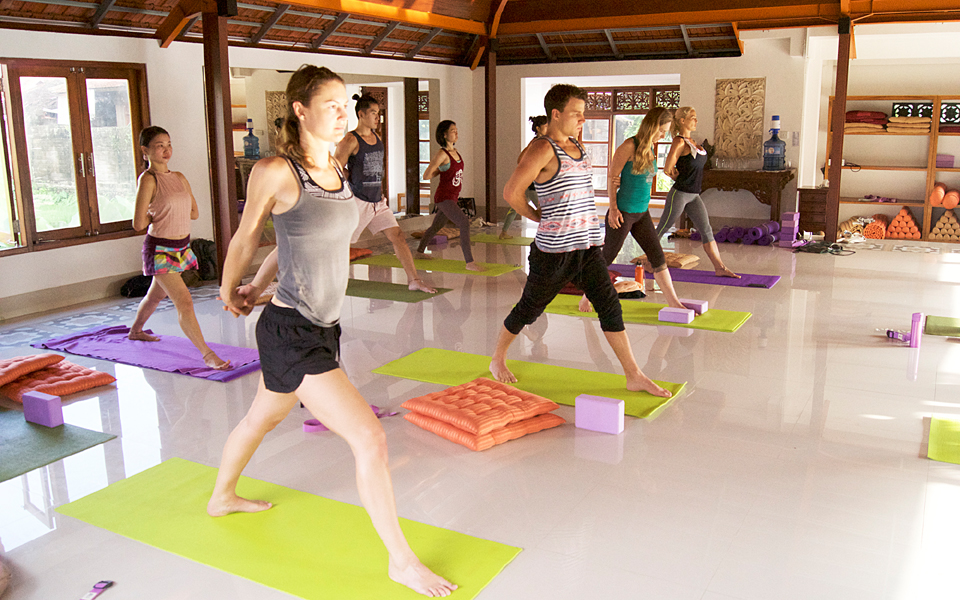 Siddhi Yoga International offers 300-Hour Yoga Teacher Training Program in Ubud, Bali. However, due to Covid shifted to yoga online training. This advanced teacher training will take you beyond the 200 Hour level and leave you ready to teach with confidence and depth. Study advanced poses, and learn to teach the basics with greater sophistication in one of the best yoga schools in the world.
Siddhi Yoga is a Yoga Alliance registered training center as a 200. 300 and 500-hour certification course.
Each phase of the asana study is informed by anatomy, alignment, and physiology, preparing you to apply that knowledge to every sequence you create.
Siddhi Yoga International offers unparalleled instruction and great value, and all of that in a warm, and supportive setting often described as family.
Each phase of the asana study is informed by anatomy, alignment, and physiology, preparing you to apply that knowledge to every sequence you create.
Moreover, spending time with Indian yoga masters which are well-known for being the best in the world is an incomparable way to enhance your practice and by doing so, strengthen your ability to share yoga with others.
So if you're looking for yoga teacher training that offers both depth and affordability, Siddhi Yoga International is the best choice for you!
Santosha Yoga Institute – Nusa Lembongan
Santosha Yoga teacher training is an inspiring journey of learning, self-discovery, and self-mastery. Whether you desire to add meaning to your life, change the path you are on, or the direction you're heading. It's an opportunity to break out of a rut, escape from the fast pace & the stress of daily life, to set your own direction and find your balance with your heart, mind, and body.
We know your heart and soul crave meaning, clarity, and freedom.
Your goal is the same as ours: to transform your life during. To take you from where you are today, to where you want to be tomorrow. Our greatest pride is being a part of your journey. Walking alongside you to help you live a joyful and fulfilled life, where you live each day following your true path as your authentic self, and embrace the happiness and beauty inside you.
Santosha Yoga Institute offers a course that will expand your knowledge about yoga after getting your certification on the 200-hour yoga teacher training in Bali program.
They focus on enhancing your knowledge and experience of the ancient ways of yoga. Of course, in order to apply for a course here, you should be practicing yoga before and make sure that you are truly interested in diving deeper into the aspects of yoga.
Their goal for you is to transform your life and to take you from where you are now, and bring you to where you want to be in the future.
Physically, mentally and spiritually rewarding, Santosha Training certifications are some of the most comprehensive yoga practices in the world.
The training program will last for about 28 days.
Shades of Yoga – Ubud
Another 300-hour yoga teacher training program ( will help you deepen your knowledge of the things you've recently learned on your 200-hour yoga teacher training course. The goal of every yoga practice is to make a person transform to become a better version of themselves.
Shades of Yoga has over 10 years of experience in yoga teacher trainings. They bet on individual attention in small classes with up to 16 students.
They guide and provide you with the tools to attract a reality that is in line with your true being. They will teach you the benefits of a healthy body and mind, which leads to a healthier life.
What makes this course unique compared to others is that the last week of the training program every day is dedicated to silence and meditation. Don't forget to check their yoga teacher training reviews.
Shades of Yoga family believes that yoga is for everyone, no matter your shape, size or experience levels. It's not necessary to be young or even flexible. You just have to be.
Awakened Life School of Yoga – East Bali
Awakened Life School of Yoga will take you on a deeper journey on the aspects of yoga you've learned recently on a 200-hour course. In this program, you'll be able to attain new skills, learn Vinyasa yoga and refresh the recently learned ones.
This training is the place where bad habits can be broken, hearts can be healed, and stories re-written.
The venue for the training is located near a quiet seaside in East Bali. While on the training, you are allowed to explore the place, thus making this program an adventurous and memorable one
This is one of the training courses where habits can be broken. Hearts can be healed. Stories re-written. And new chapters begin. This is a place where love lives. And joy, too. Get ready to know what it's like to be fully, truly alive!
Zuna Yoga – Ubud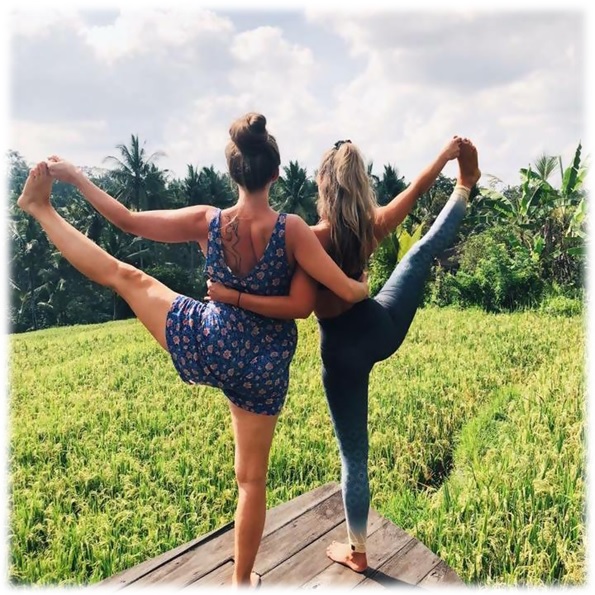 Zuna Yoga is a Yoga Alliance registered training center as a 300-hour certification course. In this yoga training school, they'll help you learn the skills needed in order to teach yoga classes effectively, with ease and confidence. Throughout the course, you'll learn how to become an inspirational speaker and at the same time, you'll develop your own.
Zuna Yoga takes care to professionally deliver yoga training programs for a big variety of yoga instructor certifications, however, their training programs are not only for those who want certification to teach yoga…
…They are for anyone who wants to get to know the experience and understanding of the powerful life skills that yoga can offer and how they can be used in our lives.
They facilitate professionally delivered yoga training courses for a variety of yoga instructor certifications, but their programs are not just for those seeking certification to teach yoga, they're for anyone who desires to experience and understand more about the powerful life skills yoga offers and how they can be used to enrich our lives.
The training program lasts for 25 days and every day essential for those who have recently got their 200-hour certification.
Shivakali Yoga – Ubud
The Shivakali Yoga, or also known as "Elemental Tantra Yoga Teacher Training" has a unique approach to teaching yoga philosophy through the 5 different elements: fire, air, water, earth, and space. They believe that each element has its own different aspects.
Throughout the training, you'll be connected with these 5 elements. They focus on teaching alignment-based Vinyasa yoga, meditations, pranayama, and restorative postures.
The Shivakali Yoga Teacher School is to preserve and teach the ancient spiritual wisdom of Yoga, using creative sequencing and modern ideas of alignment, form, and physiology. Both the yoga teacher course, yoga retreat, workshop and class by their senior teachers offers the student a spiritual journey.
Yoga Cara – Tejakula, North Bali
Yoga Cara is a 300-hour yoga teacher training program that offers 2 modules that will advance one's knowledge about the aspects of yoga. The modules can be taken separately within 3 years' time span, or take them both at the same time.
When you take the modules together, there will be 34 intensive days of the program you need to take. In order words, each module is 16 days long. The venue of the training program is at Villa Boreh.
What's more, they offer a diverse range of classes to help enhance your health and well-being. They also offer individualized Yoga, Meditation, Mindfulness, and Pilates classes especially made for you and your personal needs and goals. All of these different types of teacher trainings can help reduce stress and produce a wide variety of major health benefits. You will notice the effects of a session immediately and for hours afterward. Private Individual & Group Classes, Corporate Classes, and Online Classes are all available.
So if you're looking for wonderful practices that are a great way to take a break from a busy day and just nourish your mind and body.
They will take responsibility to support, motivate and inspire you, but they know that this means they have to start with themselves. To become better body-mind movement teachers, they are constantly educating themselves, striving for the mind and body balance in their own lives and discovering and rediscovering what fills them up with the needed joy, calm, and excitement.
They meet to share these discoveries with one another so that every student benefits not from one person's knowledge but from the wisdom and experience of our family. When you study with them, you become part of a community that will support you throughout your journey.
Forrest Yoga – Ubud
The Forrest Yoga offers a course that is based on Hatha yoga in Bali combining it with the modern style of yoga. The school's name is based on the person who founded it, Ana T. Forrest. They focus on abdominal core work and different poses. Forrest Yoga is renowned globally as a powerfully physical, internally focused ceremonial yoga practice that emphasizes how to carry a transformative experience from the yoga mat into daily life.
The training program will last for 25 intensive days and the venue for the training will be at Ubud, Bali. The food is not included in the price but there are packages you can afford that include food.
Yoga Teacher Training in Bali
Our training is built with leadership in mind, providing a foundation for your development as a teacher, leader, and life master. Whether you are new to teaching yoga or looking to advance your skills, our innovative programs are designed to provide you with yoga inspiration, education, and personal transformation in body, mind, and spirit. We are committed to developing new inspiring teachers who will lead with excellence and positively impact the world! For more information contact us today!
Take Away
Unlock your inner potential with our Online Yoga Teacher Training programs. Whether you're a newcomer or a seasoned practitioner, we have the ideal training to suit your aspirations. Begin your yoga teaching journey with our 200-Hour Yoga Teacher Training, where you'll delve into the foundations of yoga philosophy, anatomy, and effective instructional techniques. Progress to our 300-Hr Online Yoga Teacher Training and explore advanced asanas, pranayama practices, and sequencing methodologies. For the ultimate mastery, our 500-Hour Online YTT merges ancient wisdom with contemporary approaches. Join our vibrant community of dedicated yogis and embark on a life-transforming experience from the convenience of your own home. Enroll today and unleash your true potential as a yoga teacher.
FAQ's
Why is teacher training programmes important?
The best teacher education programs encourage students to use their creativity in teaching their subject while also incorporating the most up-to-date academic research. Being well-informed enhances your ability to make independent decisions and gives you the confidence to try out new teaching methods.
Can a beginner do Yoga Teacher Training in Bali?
Yoga teacher training is open to anyone and everyone. Many teacher training includes women in their fifties, men who have never done yoga before, college students, and everyone in between.
How long does it take to become a yoga teacher Bali?
The British Wheel of Yoga Teacher Training Diploma takes a minimum of two years (and up to 4 years) to complete and consists of 500 hours of training. Applicants must have been practicing yoga for at least two years and have completed the BWY Foundation Course (additional 60 hours).
How much does a yoga teacher make Bali?
Yoga Instructors earn an average of $24 net per hour ($32,000 gross per year), which is $2,400 (+8%) more than the national average salary in Bali, Indonesia. The average starting pay for a Yoga Instructor is $10 per hour. The highest hourly pay rates can reach $60.
Can a beginner join yoga teacher training?
The first yoga teacher trainings were given to dedicated students in the 1980s by seasoned teachers. Aside from future teachers, any level student can now enrol in a teacher training program to improve their skills. This means that you don't need a lot of prior experience to enroll in a yoga teacher training program.
Is it worth becoming a yoga instructor?
If you want to teach and are willing to accept any salary, I would say yes. Yoga teaching can be very fulfilling if you truly love yoga and don't care about money or are already making money elsewhere. You might strike it rich and develop a following, attracting a large number of devoted students to your classes, or you might not.
Can you teach yoga without certification Bali?
In Bali, Indonesia, there are currently no formal requirements for becoming a yoga teacher, which means that anyone could start charging customers for classes in their living room.
Back top top: Yoga teacher training Bali