If you are currently in Denmark or in the area of Benelux countries and you want to teach Yoga professionally then we recommend you to try these yoga trainings that you can avail. You can learn a lot of things and at the same time transform you into a better person.
Yagoy – Amsterdam, the Netherlands
In Yagoy, you can become an inspiring and effective yoga teacher, possessing the much-needed knowledge and understanding about the various principles of yoga. In this training program, you'll be able to have self-practice with concentration.
The classes will start in summer and each day of the training will include 2 hours of pranayama, meditation, and asana. Knowing all these can help you apply it on self-practice to become an effective yoga teacher.
Yoga Garden – Amsterdam, the Netherlands
Yoga Garden has the standard 200-hour yoga teacher training to offer, this will let the students enhance further their knowledge and understanding about the various principles of yoga, human anatomy, and techniques of postures.
There is a little requirement here, you must have at least one year of experience in order for you to be accepted in this course. The training program will last for about 7 months with 9 weekends. Throughout the course, you'll learn different yoga poses, anatomy foundations, proper breathing techniques, the philosophy of yoga, meditation, and the teaching skills needed.
Delight Yoga – Amsterdam, the Netherlands
Delight Yoga's main goal is to create unique yoga teachers that focus on Ashtanga Vinyasa Yoga. Teaching this certain field of yoga will give the students the right knowledge and understanding they need to learn throughout the course.
The course will specifically teach you about how to master asana and other aspects of yoga that may affect the flow of the body. The training program will last for over 11 months with 14 weekends in it.
Yoga Moves – Utrecht, the Netherlands
In Yoga Moves, they believe in a principle that in order to effectively teach yoga, you must perfectly practice it first. Throughout the course, you'll be allowed to practice by yourself, in this way you can attain the inner skills you have and enhance them with the help of the teachers here at Yoga Moves.
There are a lot of challenges that will be given to you throughout the course, plus class observations, this is for you to enhance your teaching skills and confidence.
Brussels Yoga Loft – Brussels, Belgium
One of the 200-hour yoga teacher training programs. Brussels Yoga Loft focuses on giving you a deeper knowledge of the principles of yoga. And by mixing it up with your self-practice, you'll be able to master all the methods of teaching together with the aspects of yoga.
Another thing to take note here is that, throughout the training program, you'll be able to enhance your confidence.
The training program lasts for about 2 months with weekend classes as well.
Radiant Light Yoga – Antwerp, Belgium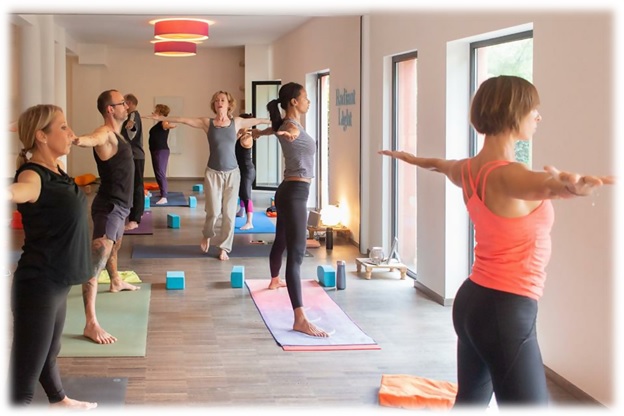 With a course that lasts for over a year, Radiant Light Yoga will help you become a very successful and effective yoga teacher. With the focus of teaching Hatha Yoga mixed with mindful awareness. Not just that, you'll also learn the history of yoga together with its philosophy, living a lifestyle through yoga practice, meditations, pranayama, anatomy, asana, and the business yoga.
They have a strict policy that in order for you to apply on their course, you should have at least a minimum of 3 years regular and daily yoga practice.
Bhaktivedanta College – Durbuy, Belgium
Located in the beautiful Ardennes in Belgium, this yoga teacher training program is a very life-changing course as you can have the opportunity to train yoga with the world's famous yoga teacher MahayogiGokulacandra.
They believe that yoga is more on postural exercise that is why they offer a 6-week online lesson about the philosophy of yoga (think of it as a head start).
After finishing the training program, you'll be expected to become an effective and inspirational yoga teacher, ready to spread the philosophy of yoga around the world.
AnandaMarga – Vig, Denmark
Accredited by the Yoga Alliance teacher training program. AnandaMarga teaches their students on how to have a yogic lifestyle together with the transformation tools you need for the enrichment of your spiritual aspect.
This yoga teacher training is more of a journey on self-development, personal practice and the skills you need to teach yoga classes. Meditation is also a core in its training program. There are two parts in their course, the first one that focuses on the physical aspect, teaching the asana, anatomy, physiology, yoga massage, various poses, and alignment.
The second part, on the other hand, is all about the physical, spiritual and mental aspects of yoga. The focus here is the teaching skills and meditation techniques.
Take Away
Discover the transformative power of yoga through our comprehensive Online Yoga Teacher Training programs. Whether you're a novice or an experienced practitioner, our courses are tailored to meet your needs. Immerse yourself in our 200-Hour Online Yoga Teacher Training and develop a strong foundation in yoga philosophy, anatomy, and effective teaching techniques. Elevate your skills with our 300-Hour YTT, exploring advanced asanas, pranayama practices, and the art of sequencing. For those seeking the highest level of expertise, our 500-Hour Online Yoga Teacher Training combines ancient wisdom with modern approaches. Join our vibrant community of dedicated yogis and embark on a life-changing journey from the comfort of your own home. Enroll today and unlock your true potential as a yoga teacher.