If you have a plan to live in Portland for short-term and want to teach Yoga as your primary source of income then we recommend you to visit these yoga trainings available in the area. You can learn a lot of things and at the same time become healthy physically, mentally, and spiritually.
The Peoples Yoga
Want to learn and teach yoga using a more classical and contemporary way? The Peoples Yoga is the right answer. They offer a course of 200-hour teacher training. The training includes the practice of everyday meditation and the way of asana together with a weekly partner. Thus, entering a course will surely help you develop your personal and social experience.
They focus more on somatic practices. In such a way we will learn to understand ourselves intimately, making us wiser, especially in decision making while including the state of our minds and bodies. While training, you are obliged to share philosophical things and ethics that are somehow related to your personal life. In that way, you'll learn about interacting with your own students after you've been certified as a yoga teacher.
The Peoples Yoga believes that in order to fully and effectively teach others, we must first embrace things within ourselves, learn with ourselves as well.
Unfold Yoga
Will teach their students the ways of using yoga for professional purposes and personal use in a span of 200-hours. The course is perfect if you want to start using yoga as a therapeutical way or just by using yoga for your personal use in order to interact and socialize with other people.
Unfold Yoga's main mission is to make yoga practices applicable and available to all. In their training, you will be taught with adaptive techniques in order to deal with sensitive students of yours in the future. It also offers self-healing and the healing of others.
Unfold Yoga is a great yoga teacher training as it enhances self-development, self-discovery, and personal growth by using different techniques. Plus you'll also learn how to be compassionate with others. The training occurs every third week of the month, starting by Friday afternoon then Sunday evening with students limited only to twelve.
Yoga Union
With the goal of turning their students into extraordinary teachers. Yoga Union offers 200-hour yoga teacher training using the yoga technique of Vinyasa. Yoga Union a wellness community center that is accessible to all. By starting the course, the directors will assure to give the students their individual needs in order to have a successful training.
Yoga Union will hone out your inner skills so that you can teach yoga in your own way. But in the process, you must step out of your comfort zone. The training starts on Fridays from 4:30 pm to 9:00 pm, on Saturdays from 12:00 pm to 9:00 pm, and on Sundays, also from 12:00-9:00 pm.
YoYoYogi
Starting a course in YoYoYogi will surely certify you to be a yoga teacher. Unraveling your inner communication and teaching skills. YoYoYogi focuses on the practice of yoga as an art form. By using your honed out skills through their courses offered, your voice and personal experiences, together with your unique personality traits, you will surely inspire other people in doing yoga.
YoYoYogi believes that everyone is a natural teacher. And also they believe that starting to teach yoga is a life-changing experience for yourself and the ones you teach.
The class schedule takes place on Fridays from 6:00 pm to 9:30 pm. On Saturdays/Sundays from 1:30 pm to 5:30 pm. YoYoYogi suggests that students who want to attend the courses must have a practice of yoga from a minimum of 1 year.
Yoga Bhoga
Yoga Bhoga is created to offer you the things you need in order to practice yoga well for yourself and to teach others. By practicing it daily, you'll learn and develop the knowledge about asana, meditation, and pranayama.
The 200 hours of training is just a start. But so far it is a great achievement for someone who've finished the training. There the student will find his/her way through yoga practice. The training will surely give you the chance to learn and how to use that hidden gift in you to the art of teaching others.
Classes start at 7:30-9:30 pm on Fridays, Saturdays from 9:00 am to 5:00 pm and Wednesdays from 6:00 am to 8:00 am.
The Yoga Conservatory
The Yoga Conservatory offers a lot, including an innovative style of teaching together with a non-dogmatic approach to yoga.
They give their students opportunities in learning different types of yoga that include Vinyasa, Yin, Prenatal/Postnatal, Gentle, Adaptive, Restorative, and Hatha yoga. The training is applicable for everyone who wants to be a professional teacher of yoga or just wanted to embrace their inner selves through yoga trainings.
Santosha Yoga
Santosha Yoga offers trainings that will give you prior knowledge about the ancient science of yoga. In this way, it will enhance your personal and spiritual practice. In the course of 200-hour teacher training, the students will have the chance to reflect on themselves through the path of yoga.
The practice of Santosha Yoga is applicable to all ages and abilities of a person.
The Yoga Space
Are you a motivated student who's very passionate about yoga? The Yoga Space is the right place for you to study yoga. The course will teach you a combination of Vinyasa, Ashtanga, and the modifications of an individual and the right alignment of the Iyengar System.
Throughout the course, you'll be taught yoga for therapeutical purposes and teaching purposes. Students that have undergone their course, have been guaranteed became confident in speaking, the use of body language and many more aspects of teaching that are applicable in yoga.
The course lasts for 6 months. And from that time span, it is guaranteed that you'll develop teaching abilities that can help others.
The Bhakti Shop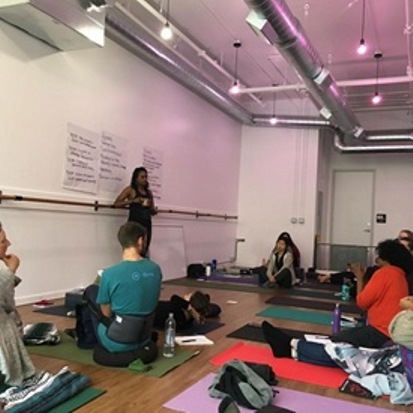 The Bhakti Shop was built in 2007 and since its start, they have been included in the Yoga Alliance as another 200-hour yoga program. The Bhakti Shop simply teaches yoga practice to their students in order for them to learn and teach it on others.
The classes here are supervised by experienced teachers that are professional in healing and other sorts of fields including mental health, traumas, acupuncture, and somatic experience. Focusing more on self-study together with a community that supports you.
The Bhakti Shop highly suggests that you should have at least one year of asana practice before enrolling in their courses.
The Lotus Seed
The Lotus Seed offers its students classical and contemporary ways of yoga practice. They also provide a space for people with the same goal of practicing yoga and then combine them to create a union that supports each other.
Their goal is to teach yoga to all ages, young or old. And not just that, but also to make yoga a routine for people to give them a healthier body.
Classes take place every Monday and Wednesday from 6:00 pm-10:00 pm, and on Saturdays and Sundays: 9:00 am to 5:00 pm.
Take Away
Are you ready to deepen your yoga practice and share your knowledge with others? Our Online Yoga Teacher Training programs are designed just for you. Whether you're a beginner or an experienced practitioner, we have the right training to suit your needs. Immerse yourself in our 200-Hour Online Yoga Teacher Training, where you'll gain a strong foundation in yoga philosophy, anatomy, and teaching methodologies. Expand your skills with our 300-Hour Online Yoga Teacher Training, exploring advanced asanas, pranayama techniques, and the art of sequencing. For those seeking the highest level of expertise, our 500-Hour Yoga Teacher Training combines ancient wisdom with contemporary practices. Join our inclusive community of passionate yogis and embark on a life-changing journey from the comfort of your own home. Enroll now and unlock your true potential as a yoga teacher.