We made a comprehensive list of the best Yoga Alliance-certified 200-hour yoga teacher training program schools in Indonesia that you can take part in if you want to become a Yoga teacher.
Some of us are not contented by just being a yoga practitioner because there is an urge that you want to share your knowledge. So if you are in Indonesia and aims to enroll in a yoga teacher training program that will transform you into an efficient yoga teacher in no time.
Stefan Camilleri Yoga – Lombok
With the training program that occurs on the beautiful island of Lombok just near Bali. The venue is located on a beach, making your yoga teacher training here very comfortable.
They offer a course that teaches you in-depth knowledge and understanding of yoga. These include the meditations, alignments and many others that are based on Vinyasa Yoga. They also combine modern yoga teaching with the traditional one making new ways to understand and practice yoga.
Yoga Bliss – Nusa Lembongan
The main goal of the teachers here at Yoga Bliss is to train aspiring yoga teachers and make them the most confident, intelligent and effective yoga teachers that can be. They will focus on teaching their students the things needed in teaching yoga, these include the philosophy of yoga, other aspects of yoga and the teaching skills needed.
You may also like: Online 300-Hour Yoga Teacher Training
At the end of the course, you'll be able to find yourself as a more confident and strong person than the previous one. And by now, you'll be able to teach yoga to other people.
Jess Kamell Yoga – Gili Meno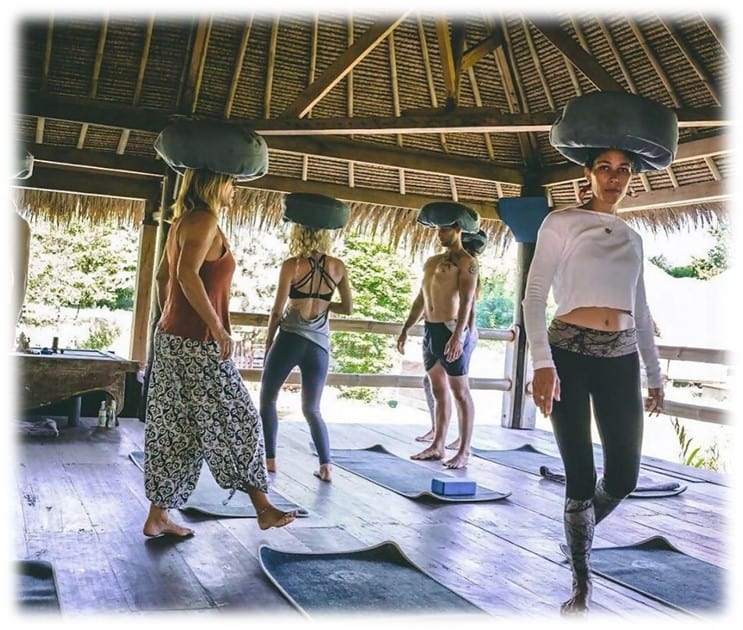 This yoga teacher training program is led by Jessica Kamell. She is an experienced yoga teacher and practitioner who is very passionate and committed to teaching her students on a meaningful the same time playful way.
The training program is based on hatha yoga which focuses on the alignment of postures, breathing techniques and the philosophy of yoga. Understanding this will give you a deeper knowledge of practicing yoga and will transform you into an effective yoga teacher.
Gili Yoga – Gili Trawangan
This yoga teacher training is a combination of spiritual practice, personal development, and art. By enrolling in this course, you'll be able to transform yourself into a better one up to the best, enhance your yoga practice, and learn how to teach yoga using your own developed skills.
The focus of the training program is Vinyasa flow. Other things they focus on teaching are the pranayama, meditation, asana and many more things you need to understand about yoga.
Zuna Yoga – Gili Meno
An aspiring yoga teacher? Or a professional one already? Here at Zuna Yoga, either of the two you already are, you can still improve your skills and knowledge through the course they offer here.
The course is very essential because it focuses on teaching an in-depth study on breathing practices, yoga postures, philosophy of yoga, Ayurveda, yoga anatomy, adjustments and sequencing, and meditation.
It is highly recommended that you have at least one year of consistent yoga practice.
It's Yoga International
The 200-hour YTT program of this school has been certifying enthusiasts of Ashtanga Yoga for almost 30 years! This training gives the students the time to have a sturdy foundation from which to personal use and train others. They teach all the fundamentals, and many more, to guarantee that you are ready to become the best teacher that you can be.
The primary goal of their program is to be compassionate so that you can know and use the primary components of this yoga school's Ashtanga Vinyasa Yoga program, in order to have the poise, freedom and urge to impart the knowledge in your neighborhood.
Aside from doing yoga, you will also study anatomy. You will learn how to classify muscles, bones and joint and their functionalities.
Comprehend the values of teaching ethics in the classroom. Look for your personal voice as a teacher. Formulate your teaching philosophy and market yourself as a yoga trainer.
School Yoga Institute
This yoga school has a genuine goal for individual transformation. In this manner, the programs are created not only to give students the capability to impart the perception of yoga with other people, yet also to view their personal lives from a divine perception. Each program is made up of one of kind energy, produced from people with a similar mindset who unite from all parts of the globe.
To direct the progression of your own transformation that is from the ancient teachings of the East and shamanic fundamentals from Peru. Our YTT programs are segregated into 4 parts, which are coming from the 4 major directions. The community is filled with unified people that integrate the peace within them.
During your schooling, the students are expected to learn all the fundamentals of yogic lifestyles, such as implementing a vegan diet, living away from the distractions of other things such as the technology that we have now.
Every day, a 1 and a half hour asana practice and breakfast that are aligned with the yogic lifestyle. What an exciting experience isn't it? Aside from Hatha and Vinyasa, you will also learn the other fields that you can use to become an effective yoga teacher.
Take Away
Are you ready to deepen your yoga practice and share your knowledge with others? Our Online Yoga Teacher Training programs are designed just for you. Whether you're a beginner or an experienced practitioner, we have the right training to suit your needs. Immerse yourself in our 200-Hour Online Yoga Teacher Training, where you'll gain a strong foundation in yoga philosophy, anatomy, and teaching methodologies. Expand your skills with our 300-Hour Online Yoga Teacher Training, exploring advanced asanas, pranayama techniques, and the art of sequencing. For those seeking the highest level of expertise, our 500-Hour Yoga Teacher Training combines ancient wisdom with contemporary practices. Join our inclusive community of passionate yogis and embark on a life-changing journey from the comfort of your own home. Enroll now and unlock your true potential as a yoga teacher.