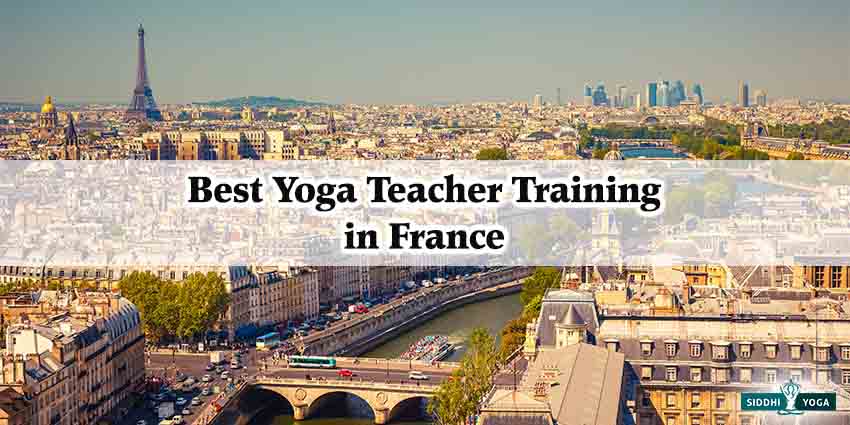 If you have a plan to live in France and want to train people regarding the fundamentals of yoga, then we recommend you to try these yoga trainings that are available in the vicinity. You can learn a lot of things and at the same time become healthy in all aspects of your life.
Ashtanga Yoga Paris
Ashtanga Yoga Paris offers a course that is suitable for those who are interested in studying yoga and want to teach them, or just simply study them for their own personal development.
Ashtanga Yoga Paris proves that when you finished your course you'll come to see yourself as a renewed person, oozing with confidence and a human being that is ready to face the world and teach people the aspects of yoga.
Yoga Centre Du Marias – Paris
Yoga Centre Du Marias offers a course that will give you prior knowledge about yoga and teaching skills. They possess a family-like approach to their students, thus building a solid relationship with each other.
The course lasts for 6 months, and you can have an unlimited class there. It is required that you attend at least one class a week. After your course here, you'll be expected to become a great yoga teacher ready to teach yoga on other aspiring students who also wants to become yoga teachers.
My Yoga People – Chamonix
Here in My Yoga People, they encourage their students to find themselves, the inner teacher in them while allowing to have mistakes in the process and correct them. The place is has a view of Mont Blanc and the Gare des Glaciers, and other mountains near the place which can help attain peace of mind while training.
Each class lasts for 12 hours and you're welcome to visit the surrounding mountains and other places in town after class. Their main goal here is to make you a great teacher through learning from your mistakes and experiences.
Rainbow Light Yoga – Coudres
Located in the French countryside, the Rainbow Light Yoga teacher training program focuses on the holistic and spiritual development of a person. The venue is just an hour and a half drive from Paris.
The course limits its students to 14 to make sure that they build a solid connection and relationship with each other. Their main goal is to balance the physical power of oneself and the knowledge they possess. Foods that are served throughout the course is purely vegetarian and it is included in the payment.
Yoga Beach House – Biscarrosse-Plage, South France
With the combination of contemporary knowledge and traditional yoga, Yoga Beach House certainly will transform you into a great and effective yoga teacher.
There are certain traits needed when training here, these include courage, strength and the will to dive deeper. As you finish your course here, you're expected to transform as a new and better version of yourself that is ready to be a professional yoga teacher.
Art Yoga Studio – Nice
In Art Yoga Studio, they combine the principles of yoga and creativeness through art at the same time. In this way, an individual will find oneself and learn to focus more deeply on yoga practice. Applying here is perfect if you're looking forward to deepening your knowledge in yoga and want to share or teach others what you'll learn.
The course lasts for a month and there are two teachers in charge. These teachers have 20 years of experience, thus, guaranteeing your success in this yoga teacher training program.
Yoga Cara – St Priest Ligoure, South-West France
Yoga Cara is one of the 200-hour yoga teacher training programs which focuses on a holistic approach and personal development of a person through yoga. Here at Yoga Cara, they ensure you that you'll start your course here with a few knowledge and will finish like an expert in the field.
There is a rule here that electronic devices are not allowed to be used because it can distract you throughout the training, with this rule around, you can socialize with others freely. Finishing the course will change your life.
BloomYoga – Bayonne, South West France
In Bloom Yoga, they teach their students the basics of asana, meditation, and pranayama together with creating Vinyasa sequence. Located Basque Country of South West France in Bayonne.
Their main goal in Bloom Yoga is to let you grow both physically and spiritually. The course is about 30 days full-time or you can choose a 6-month schedule.
Yoga Veda – Mansigné
Yoga Veda offers a course that can help you learn about living a yogic lifestyle. The place is beautiful as it is set in the countryside, a farm to be specific. In this course, it is guaranteed that you'll come out as a new person, much wiser, better and ready to teach yoga effectively.
The training is for about 21 days. And throughout the course, they'll hone out your self-confidence and the teaching skills that are naturally inside you. There are accommodations available and it's up to you what to choose.
Take Away
Ignite your passion for yoga with our Online Yoga Teacher Training programs. Whether you're a newcomer or an experienced practitioner, our courses will guide you towards your goals. Start your journey with our 200-Hour Online Yoga Teacher Training, where you'll develop a strong foundation in yoga philosophy, anatomy, and effective teaching techniques. Advance your practice with our 300-Hour Online Yoga Teacher Training, delving into advanced asanas, pranayama practices, and the art of sequencing. For those aiming for mastery, our 500-Hour TTC integrates ancient wisdom with modern approaches. Join our supportive community of dedicated yogis and embark on a life-transforming experience from the comfort of your own home. Enroll today and unleash your potential as a yoga teacher.