So you want to know the 10 Top Vegan Restaurants in Ubud…
Congratulations!
You're in the right place.
To make this article complete today, we'll take a look at 10 best vegan restaurants and tell you everything you need to know about them.
So just keep reading until the end, so you can know where's the best place to try some vegan food.
Ubud, which is located in Bali, is well-known for being one of the best cities for vegans in Bali.
The cuisine here offers the best local ingredients.
However, that's not all…
It also includes fruits, beans, herbs, vegetables, and spices.
Once you mix them together, you can taste one of the best dishes in the world.
Having said that…
What's better than a yoga teacher training in Siddhi Yoga followed by a mouthwatering vegan meal?
So without further a do, let us show you the
10 Top Vegan Restaurants in Ubud, Bali
1. Siboghana Waroeng
Siboghana Waroeng is situated south of the center, and the Balinese dishes feel like home-cooking.
There they cook with no MSG, and everything is vegan and cooked with the help of the coconut oil.
However, the lack of MSG doesn't influence on the food's taste. The food is flavourful, delicious, and makes you love the vegan dishes.
In addition to that, every dish here tastes like home-cooking…
So, you'll love it!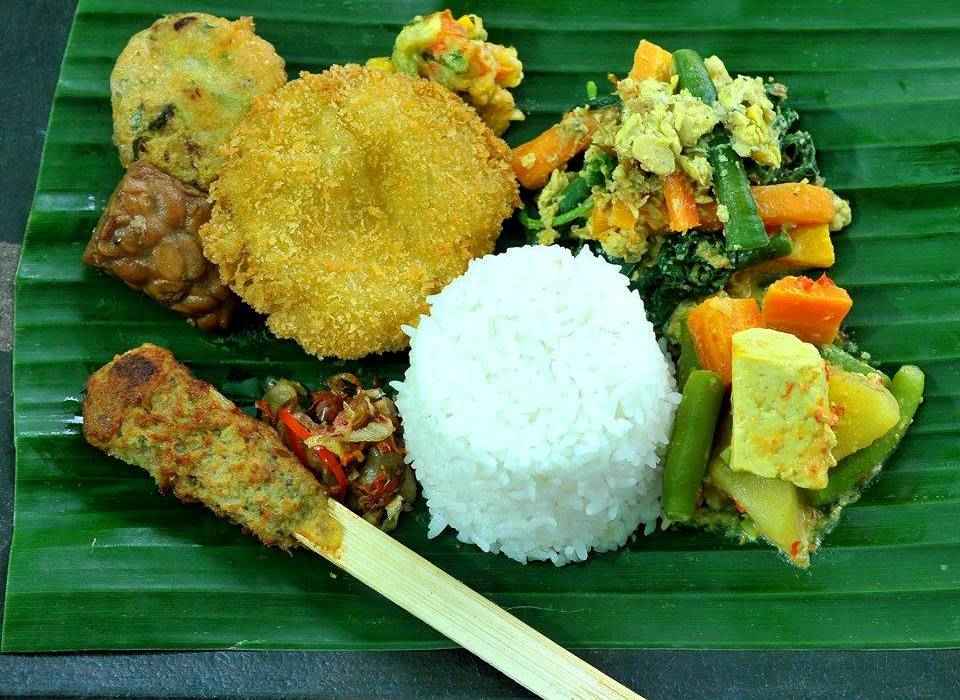 There's only one downside, and it's that the preparing of the food takes a while.
However, there's a reason behind that, and it's that everything is cooked to order.
There's nothing to go wrong with the menu, but here are our recommended dishes.
One of the musts tries here is the nasi campur, which is prepared with red rice.
The rest of them are their crispy mushrooms, begedil potato cutlet, vegetables tempeh, sugar urap vegetables, and a dollop of spicy ginger sambal.
So if you're looking for the best value place in Ubud for delicious Balinese vegan food, Siboghana Waroeng is the right choice.
Here's more information about the location.
2. Sawobali Vegan Buffet
Sawobali Vegan Buffet is famous for its all-you-can-eat vegan buffet.
They serve fresh and tasty vegan food, which is perfect for a quick and inexpensive meal.
For the price of $3,50 USD, you can choose between 10 hot dishes, salad, rice, and soup.
However that's not all there's also water included in the small price.
The food here is described as Indonesian fusion, and there are many classic local dishes like vegetables, tempeh, curry, and tofu.
On the other hand, there are also more international dishes like their delicious tomato eggplant dish.
It tastes like the Italian melanzane parmigiana but without the cheese.
There's one thing you can be sure about, and it's that everything is gluten-free and made with no garlic or onions.
Sawobali also has a range of cakes, including vegan and gluten-free options.
3. Veggie Karma
The neighbor restaurant to Sawobali is called Veggie Karma, and it's a new Chinese vegan restaurant.
Veggie Karma offers something a little bit in comparison to other vegetarian restaurants in and out Ubud.
The interior is decorated nicely, and there's a garden which makes the perfect atmosphere for a vegan meal.
One of our recommended dishes here are their vegetable dishes and the mapo tofu.
We can describe the tofu as a very flavourful and spicy dish that you can enjoy during your stay in Ubud.
There are plenty of tiny balls of soy meat, which is something many vegan and vegetarian people might don't like, but they are small enough to ignore.
However, if you don't want those on your plate, you can just ask the waiter to exclude them from the ingredients for the dish.
Simple.
4 . Lazy Cats Cafe
Lazy Cats Cafe is one of the social media stars of Ubud. The interior of this place can be called a real artwork.
The interior is combined with a great view overlooking the main road of Ubud.
Both they give you a great feeling while you're there.
There's a fast Wi-Fi connection, so if you're able to work from your computer, this is a good place for that.
The coffee here is excellent, and every single food is vegan or vegetarian.
They offer a very well prepared green smoothie bowl, caramelized onions, Coladas, and much more.
There are also very good lunch options, including salads, wraps, quesadilla, and their famous BBQ tofu bowl.
From 7 PM until during dinner time, they serve many different cocktails, which you can combine with their great tapas.
5. Sayuri Healing Food Cafe
Sayuri Healing is a very good addition to Ubud vegan culture.
It's one of our favorite restaurants.
It has a bright space, fast WiFi, and good delicious healthy food.
Every dish comes with a lot of veggies, different dressing, and toppings.
One of their best green smoothies is called Pick Me Up, and it's made with berries and pineapple, so it isn't too "green."
For the smoothest again, there is a big choice of toppings you can put over your smoothie.
However, the key thing to remember that this is raw food, so if you're not a fan of the raw food, this might not be the place for you.
So, if you're looking for a creative, healthy, and flavorful meal, you need to give this place a try.
6. La Pacha Mama
La Pacha Mama is one of the most stylish vegan and vegetarian Mexican restaurants in a dramatic.
You might like their cool decor and regular live music.
The interesting thing about this place is that the staff learn your name, so you might feel very special during your stay there.
To try everything in the best way, we can offer you to try their guacamole, burrito, flauta, cauliflower buffalo wings, nachos, which is served all in one plate.
This is a perfect way to try everything and share it with your friends.
If you need something to drink with your food, you can take a cocktail from their large menu.
Another must-tries is their own authentic corn tortillas and jackfruit burrito.
The desserts are also very good. If you order a "flambeed bananas," the chef comes out and flambee your bananas in tequila in front of you.
So if you think you'll enjoy this type of meal at La Pacha Mama, combined with great cocktails, service, interior, and some excellent food experience.
7. Warung Makan Rama
This place has just two tables and a small menu, which includes some local dishes, fried noodles, and rice.
The must-try dish here is their "nasi campur," which is prepared with various vegetable rice, spicy tempeh, tofu, potato soup, and soy meat.
If you're traveling on a budget, this might be the perfect place for you, because if you order "nasi campur" you'll need to pay only around $1 USD and even less for other plates.
8. The Spell Creper
If you like organic French Galettes, The Spell Creperie is the right choice for you.
This place is mostly vegetarian.
However, there are lots of vegan and gluten-free options, which you can spot on the menu.
The interesting thing in this restaurant is that there's a relaxing zone where you can go and relax after your meal sitting on cushions on the floor.
Moreover, the tables you can eat on are overlooking a family temple and frangipani trees, so you'll love it.
There's a wide choice of different galettes, and you can choose from the menu to create your own.
The must-try crepe here is called "The Secret Crepe," it's topped with delicious salted caramel and combined with cashews, caramelized apples, and some coconut cream.
Don't miss our original vegan Dharamshala guide, which includes our favorite restaurants, which we still visit regularly.
9. Moksa
Moksa is a Plan-based Restaurant & Permaculture Garden.
Google maps will recommend you drive our scooter to Moksa.
However, you can take it because this is one of the narrowest roads in Bali.
The must-tries here are the Asam Laksa, noodles, and veggies in thick coconut soup.
Laska is one of the most flavourful and filling with chewy, crispy veggies, and noodles.
Another recommended dishes are the mashed sweet potato, which is very delicious, and the Mexican pizza which contains coconut and cassava crust, mushrooms, sweet corn, vegan mozzarella, jackfruit, and pesto.
The interesting thing about this restaurant is that most of Moksa's produce is sourced from their own organic garden, which is permaculture.
However, that's not all there's a farmers market there at Moksa two times a week, so you can just grab some f the garden's goodies back home, and use them as ingredients for your dishes. (If you have your own kitchen)
Another key thing to remember is to bring your bug spray. It will be very helpful if you'll visit Moksa for a romantic dinner.
10. Sage
Sage offers one of the most vibrant vegan cuisines in Ubud.
Everything at Sage is very welcoming, starting from the cozy interior, which is combined with a very delicious meal.
The level of the service here is amazing, and everything is happening really quick with smiles all around.
The interesting thing about this restaurant is that the water is served free of charge, which is great.
It can be very hard to choose between all the tasty options out there, but if you bet on the Vegan Burger and the Nourish Bowl, you can't go wrong.
The burger is very tasty, and it's combined with a very well prepared sauce.
The bowl will come with some baked sweet potatoes, sauteed carrots, steamed cauliflower, zucchini with tempeh garlic tahini dressing, and spinach.
This is one of the healthiest options in the meal, which still tastes really great.
Another must-try is the Teriyaki Bowl, which vitamin-packed but still very tasty.
The Teriyaki Bowl includes steamed broccoli, green beans, brown rice, bean sprouts, bok choy, sesame tempeh, grilled pineapple, with teriyaki sauce and spicy sambal.
Another interesting dish is the California Burrito, which is served with some guacamole, beans, rice, and more.
The tortilla is no way inferior to the burrito, so you can try them both.
If you're looking for a good dessert, the chocolate cake is a really good choice.
To Consider
We from Siddhi Yoga International hope that this guide has made you feel hungry for some vegan and vegetarian dishes in Ubud, Bali.
There's only one thing you can be sure about, and it's that you will not be disappointed if you visit one of these 10 restaurants.
Have you been to any of the 10 restaurants? Or do you know of any restaurants or cafés in Ubud that anyone should visit during his stay in Bali.
Please do let us know in the comments.