Goa, India the perfect Yoga Destination.
With its almost always bright shining sun and wide beaches, Goa gives you the perfect atmosphere to practice Yoga. Goa is this inspiring place where you can start this new healthy style of living while you practice Yoga, think positive, eat healthy food, and learn new things you haven't known.
You don't know anything about Yoga? No problem!
Goa is the perfect place to start or go to the next level of your healthy yoga life. And where is the best place to do that?
You need to be a part of a yoga retreat!
India is the birthplace of Yoga, so there you can find the most authentic yoga teachers in the world. But during your yoga training in Goa, you will have some free time on weekends, and you need to know exciting things to do in Goa.
Luckily enough, you are in the right place!
This article' will help you get to know Goa as a fantastic place to visit and explore. From just laying on the beach and watching the sunset through snorkeling and scuba diving up to Hot Air Balloon Flight, Goa has everything you need.
So without further ado, here is our list of 30 must-do things in Goa so you won't miss any possible way to have fun there.
#1 The Beaches
Going to the beach is the main activity you can do in Goa. You need to know that you can't visit all the beaches on your first visit to Goa because there are so many of them. You need to choose well, depending on your personal needs. North goa has crowded beaches which offer many places you can have a party, shopping, and a lot more water sport activities.
At the same time, South Goa is for the people who are looking for the calm beach to sit and enjoy the beautiful nature of Goa. In this part of Goa, you can easily find one of these dreamed beaches where the only footprints are yours.
Here you can see a list of best beaches in Goa:
North Goa Beaches
Vagator, Candolim, Sinquerim, Anjuna
South Goa Beaches
Palolem, Butterfly, and Agonda South Goa, Majorda
2 Learn Yoga at Siddhi Yoga
As you already know that Goa is the perfect place to visit if you want to practice Yoga. But now you'll meet Goa's Best Yoga Retreat . Its name is Siddhi Yoga. People who practice Yoga from all over the world come to Goa just to be a part of their 200-hour Yoga teacher training. And there is a reason behind that. They treat everyone as part of their big group called "family," and you won't be able to feel lonely or unsupported there. The Indian world-class Yoga teachers there will help you experience Yoga as a way of life.
If you're that person who would love to practice Yoga with one of the best teachers, you can just check Siddhi Yoga 200-hour Yoga teacher training .
#3 Water Sports
Goa is a paradise for the people who love to practice water sports and other full of fun things. You can try things like banana boat rides, waterskiing, boogie boarding, speed boat, parasailing, water scooters riding, and windsurfing.
And that's not all!
At the most popular beaches, safety is also secured. The best time to practice water sports is early in the morning for the things that need wind because the calm and light morning breeze will help you have the fun you want. During the rainy season, most of the water sports activities are closed because it's too risky to enjoy them.
#4 Kayaking
This could be one of your most beautiful memories when you think about Goa. You can glide through the backwaters and see the wildlife closely- bats, birds, and dolphins are only some among many other animals. If you're a keen nature enthusiast, this is one of the best matching activities for you!
#5 Whitewater Rafting
If you're a fan of extreme adventures, this is the perfect thing to do for you. See the adrenalin flow overflow in you while you're sliding over the fast river's water. There are so many places where you can try this great activity, for example, the Mhadei River, Mandovi River, and Valpoi River.
The cost is about 25-30$ USD for one person. It's nothing for the experience you receive after this. The price also includes all the safety stuff you need like lifejackets, rafting gear. You also receive some basic lessons to understand what you need to do while you're rafting.
The season between June and September or also known as the monsoon season is the best time for whitewater rafting because in that period the rapid is the wildest.
6 Snorkeling and Scuba Diving in Goa
Do you like swimming, scuba, diving, and snorkeling? Goa offers that in large numbers. You can fast and easy hire equipment, go for basic training and just dive and have fun under the sea waves. There you can enjoy the shipwrecks and the incredible underwater life of the Arabian Sea. One of the best places to do this is Bogmalo Beach in South Goa or near Vasco da Gama city.
#7 Dolphin Tours
You've never seen a dolphin?
In Goa, you can go into the sea for a boat trip, and you would probably see many dolphins. These boat trips operators can be found on many beaches like Candolim, Calangute, Sinquerim, or Varca Beach.
The dolphins in Goa are everywhere you can find them even in the rivers. So if you want to watch some dolphins, just go and take a look.
#8 Cruise in Goa
You're wondering where to be your next dinner?
It can be on a river cruise ship. If you want to have this romantic time with your lover, the candlelight dinner cruise is a must-do thing while you're in Goa. Under the light of a flaming candle, listening to amazing Goan music, you can have a memorable experience.
However, these are not the only types of cruises you can choose. There are sunset cruises or cruises in the backwaters of Goa's Mandovi River in the middle part of Goa and the Sal River in the south.
Every day of the year is a good time for cruising in Goa, except for the monsoon.
#9 Spice Plantation
It's 8 am on a Sunday morning, and you don't know what you can do until the afternoon. We have a perfect activity for you and your friends, family, or lover. India is well-known for its cuisine, which contains many different types of spices. You can go and learn the history of their spice plantations and also try some of India's exotic spices that you can taste only there.
The perfect way to do this is going to the Sahakari spice farm, South Goa. For the price of 5$ USD per person, you can walk across the 130-acre area, follow the friendly guide, which gives summary and info about spices, which include coffee beans, vanilla, betel, cinnamon, etc. And after all of this, you receive a big lunch, including vegetarian and non-vegetarian dishes.
#10 Paragliding
Goa isn't indifferent to the people who want to have adventure experience there. At Arambol beach in the north part of Goa, you can have the privilege to see the beautiful nature of Goa from above.
The price is 42$ USD, so for the money, you receive some basic instructions and safety check, and after the help of your instructor, you can get yourself gently into the sky. You can do this every day, but until the afternoon because at this time, the wind can be too strong for paragliding. Other advice is to avoid the monsoons months- July, August, and June.
#11 Casino Gambling
Take the risk, or lose the chance!
If you need to try your luck somewhere in Goa, you need to search for ships. One of the most famous names is Big Daddy Casino, Deltin Royale, and Casino Pride. And all of these casinos are placed on the board of a ship.
On these ships, you can feel the real party of Goa with some stand-up comedy sows, pretty dancers, live music, and much more. The most exciting part is that you can go there with your kids because they offer entertainment zones for the little ones while their parents have fun in the casino.
#12 Party On The Beach
Goa is known as the party capital of India, so if you're there, you must go to one of their beach parties. In the north part, you can choose between Candolim, Calangute, Sinquerim, and Vagator. The chronicle club at Vagator beach offers delicious Italian cuisine and the menu of specially selected cocktails.
The party starts at 15:00 pm during the sun goes down. There you can listen to DJs and musicians from all over the world. If you're searching for the perfect place to hit the dance floor, you already found it!
#13 Spa and Massages, Goa
After the week of Yoga training, during the weekend, you can enjoy spa and massages in one of all spa centers in Goa. The two most liked centers are Sereno Spa and Leela Kempinski Goa Spa Center. Tourists from all over the world share their positive opinion about these two centers. All different types of massages and spa treatment help you relax your body while you're enjoying fantastic views of Goa's beaches.
#14 Bungee Jumping in Goa
Goa offers so many adventures full of adrenalin, and one of them is the Bungee jumping. This is only for the people who are ready- mentally and physically because there is a risk, and this is the reason why it's not for everyone.
So if you feel ready to "jump into the adventure," The Gravity Zone near Anjuna beach is the right place for you. There you can feel what's a lie to jump from a 25-meter high tower. The price is not that high is the tower, and it's between 7$ and 40$ USD, depending on the tour operator. You can find this operator at Baga, Anjuna and Calangute beach.
#15 Nagesh Eco Ventures
Do you like to explore nature?
Eco-Tourism adventure is the perfect thing to do. And the ideal place to plan your eco trip is with Nagesh Eco-Ventures because they're dedicating with planning eco-tourism adventures. If you want to refresh yourself while you're exploring the beautiful Goan nature, just find the Nagesh Eco tourism webpage, and you'll see how easy it is to plan your eco vacation in Goa.
#16 Monsoon Fun Park
The Monsoon Fun Park is placed at Baga beach. There you can have fun with your family and loved ones with some of the most exciting water sports. There is something for people of every age. You can take part in one of the coordination, agility, and balance challenges. If you think this could be fun, just visit Monsoon Fun Park.
#17 Goa Kart Racing
If you're wondering if you can try kart racing in Goa, the answer is yes! The right place to do that is in the city of Arpora. The 340 meters long track is located near the night market. There are plenty of U-shaped turns, lots of adrenaline and fun. If you're under 18 and you want to try, you need the sign of your parents or legal guardians. The price for this full of happiness activity is only 4$ USD.
#18 Splashdown Water Park
The perfect place to connect with your friends, family, and loved ones is Splashdown
Water Park. With its five pools, a variety of slides, and other interesting features, it can deliver the wanted dose of a fun experience for all ages. You can discover once again the kid in you while you're exploring the different types of slides. There are more than 15 various activities you can try.
During the day full of adventures you'll get hungry, but don't worry, there are plenty of different cafes, Pizza and BBQs Corners where you can charge yourself with new power to continue the day.
The price to enter in this fantastic place is only 14$ USD for people above 48 inches and 10$ USD for under 48 inches. For a baby under two years is free to enter, and for the people above 60, the price is 7$ USD. The working time is every day of the week from 10:30 am until 6:00 pm.
#19 Froggyland
Froggyland was opened in 2015 and is the second most popular water park after the Splashdown water park. It's placed in Nuvem, South Goa and also is the biggest aquapark in Goa it's placed across an area of 35.000 sq. m.
In the park, you can enjoy a lot of different types of slides and rides. There is something for children and adults. There are many different types of adventures, like rock climbing, river crossing, zip lines, bungee trampoline, and a mechanical bull. The most visited activities are the Wave pool and the Rain-Dance floor.
The ticket price for adults is 6$ USD and 4$ USD for children. The park is open every day except Mondays from 10:00 am to 18:00 pm.
#20 Watch the Sunset
Romantic beaches and riverside drives to towering mountains Goa simply has it all. Goa has the well-deserved names like the Land of the Sea, Sand, and Sun. The people from all over the world who have been here in Goa can tell you that Goa is the perfect place to watch the sunrise and sunsets.
Here we'll tell you the best spots in Goa.
Dona Paula View Point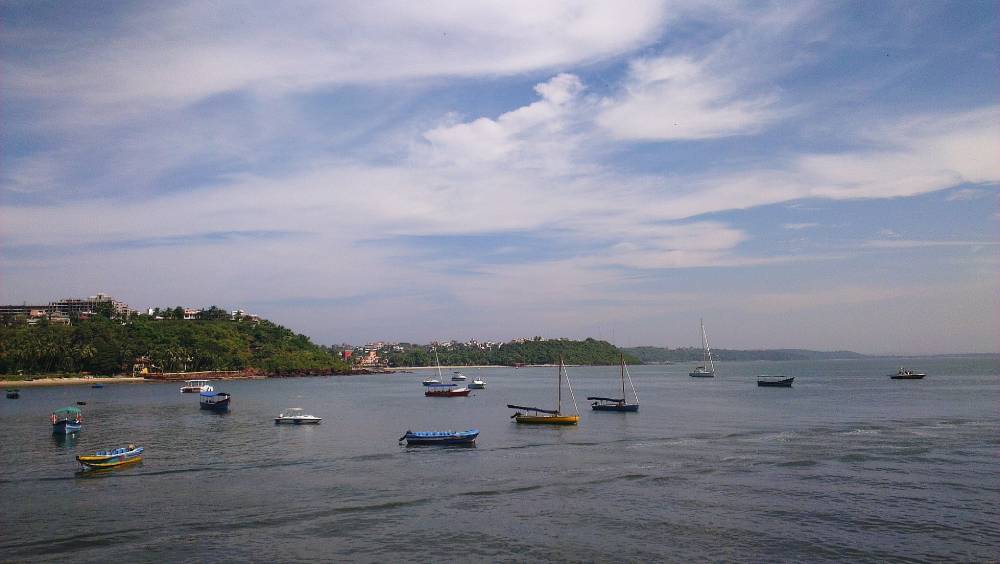 This beautiful place is located around 7km, away from Panjim. You can easily reach it, taking the bus, or renting a motorcycle or taxi from Panjim. There are buses every 15 minutes from Panjim Bus Terminal.
Chapora Fort
Chapter Fort is located 11 km away from Mapusa. So you can reach it easily if you catch the local transport from Mapusa.
Japanese Garden Vasco
In the city of Vasco Da Gama, there is a place called Sada; there you can find this garden, which gives a breathtaking view of the Arabian sea. To reach the garden from the city, you'll approximately need 10-12 minutes if you're using a car.
#21 Goa's Nightlife
After you watch, the sun goes down, life comes to Goa, and it's time to feel the party mood of the smallest state in India. The nightlife in India is simply a pleasure. First, you can visit the night bazaars where you can see offers so many things like clothes, shells, jewelry and other attractive things. After that, you can party hard in so many different types of clubs, shacks, and pubs.
Here you can check the best of them.
Clubs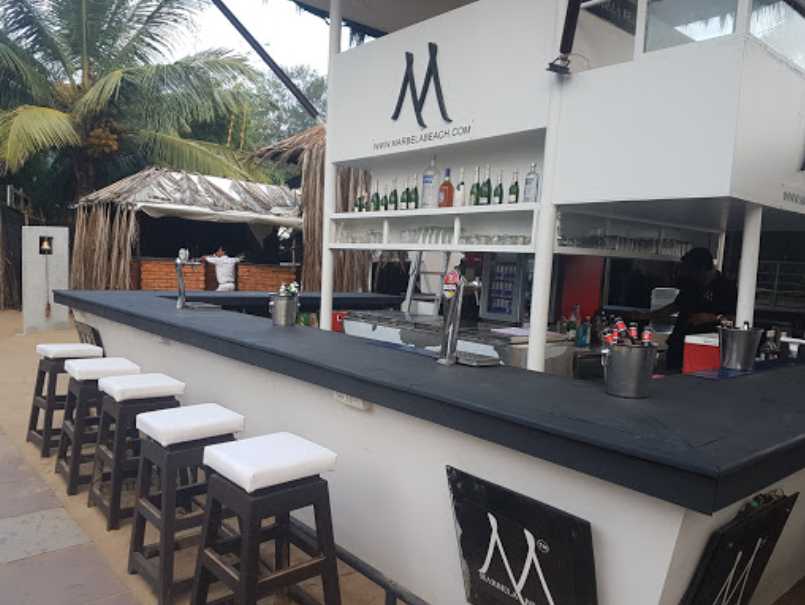 Down the Road (Panaji); Sinq (Candolim Beach); Club M (Marbella Beach Resort,
Morjim); The World Famous Decades Bar (Calangute beach); Lido's (Dona Paula Beach)
Beach Shacks
The Curlie's Shack (Anjuna beach); The Pine Shack (border of Calangute and
Candolim); Sublime (Anjuna beach); Thalassa (Vagator beach); Bobby's Shack (Candolim Beach); Brittos (Baga beach)
Bar and Pubs
Shores Bar and Guru Bar (Anjuna beach); Zanzibar Bar (Baga beach); Tamarind
Tree (Sinquerim beach); Found Things (Palolem beach); Shores Bar (Anjuna beach)
#22 Surfing (Try SUP at Vaayu)
You need to visit Vaayu. With their help, you can glide over the water and feel like never before. You can learn from WPA (World Paddle Association) instructors and have fun as soon as possible because once you learn how to do this, you start to feel it like a fun game. You can try waves, rivers, or even flat-water lagoons. There is no matter what you choose. It will always bring you that awesome feeling of freedom.
#23 Anjuna Flea Market
Junk jewelry, electronic goods, handicrafts paintings, trendy wrap, and mirror-worked waistcoats are some of the things you can shop at Anjuna Flea Market. This place is well-known to be a hippie arena in the past, but today is a very famous shopping place in Goa. It exists since 1980 till these days.
Located in Dando Vaddo, the sough of Anjuna beach, the market working time is from 10:30 in the morning till 6:30 pm. During the months of September to March, this market is held because this is the time when tourists from all around the world visit Goa.
#24 Jetlev Flyer in Chapora River
Do you want to feel like a movie star?
Or you're just looking for your next adventure during your stay in Goa?
Go and feel what is like to fly with Atlantis Water Sports
Jetlev Flyer is an entertaining device. You have two jets that blast the water down from your shoulders. That allows you to levitate in an upright position up to 30 feet in the air. One of the best tricks you can show is to run above the water surface.
If you doubt if it's safe, please don't worry because there are instructors who'll be assisting you. There is no matter how much is your weight because you have the support of the unicycle-styled saddle. So all you have to do is to stay calm and let the Jetlev give you one of the best experiences in your life.
#25 Trekking in Goa
Goa is one of the most beautiful states in India. With its wildlife and amazing nature, people who visit it have the luck to be at a place which is 38% forest-covered. This could be very interesting for the keen trekking enthusiasts who would love to take part in one of the hiking/trekking expeditions which are organized by the agencies like Goa Hiking Association. This is a great way to give a break to beach tourism and water sports.
Here you can check the best place for trekking in Goa.
Mollem National Park
If you want to see wildlife and some rare flora and fauna, this is the right place for you. You will trek with jeep by an expert guide who can give you so much interesting information about the park and flora and fauna as well.
If you like to take pictures, make sure to carry your camera to take the best shots possible of the surrounding amazing nature. You don't need to be dressed light just to be sure you'll avoid the discomfort.
The most exciting part about the trek would be visiting the Dudhsagar Falls, and maybe you'll have the opportunity to dive into the water.
This trek is perfect for families, group of friends because you don't have to walk so much because most of the time you're just riding in a jeep. The perfect time to do this type of activity is during the months of November to February.
#26 Hot Air Balloon Flight in Assolda Ground
If you want something different from beaches and coasts, it's time for you to order Hot air balloon adventure in South Goa. The fly duration is 30 minutes once the balloon is filled with hot air. Enjoy the amazing overview of Goa up to 900 feet in the air.
Your safe landing is assured by the expert pilot who'll explore many interesting things to see from above. For the photographers, this is also a very good spot to take the best picture and make your friends jealous.
#27 Flying Elephant Zip Lining in Goa
In the city of Dharbandora, you can have the chance to experience the well-known "Flying Elephant," which is a zip lining experience. You can "fly" between the trees and thick jungles of Goa. IN this type of activity, you can try tree climbing, rope walking, or net walking, and all of that interspersed with zip lining. The time you'll need to finish all of this can last 2 hours.
#28 Parasailing
How you already know Goa is full of adventures and fun. Parasailing is for the people who can't be scared of water. So if you can't swim, parasailing is not for you. Mobor Beach is the perfect place you can enjoy parasailing. If you don't know how parasailing works, we will tell you. First, you go with a boat in the sea, and from there you can fell the real parasailing. The best part is while you're going high above in the air.
The whole flight takes about 10 minutes, but it'll give you a fantastic experience. There is no problem with the safety because before everything you receive proper safety gear, so you don't have any chances of an accident. Another good place where you can parasailing is Coco beach in North Goa. Just go there and try it, we're sure you'll be thrilled at the end of this adventure.
#29 Quad Biking in Goa (ATV Rides)
In the north part of Goa at Mandrem beach, you can quick and easy rent an ATV. The first thing is to speak with an experienced professional who will teach you how to ride this machine correctly, and soon, you'll be riding the ATV like a professional.
You can drive all day long through the sandy northern beaches of Goa or the heavy wood sides where you can feel what it is like to explore the real off-road experience. For the price of 8$ USD for 15 minutes, this can be one of the happiest, thrilling memories that are going to be with you forever.
#30 Canyoning
You need to prepare for the whole day for this activity. We know that this is not something that you normally do, but it is worth it. You'll need to climb and jump into pools of water. The landscape you'll see will blow your mind. So if you're pushed by the need for exploring, you can contact Goa Jungle Adventure.
Their two guides have serious knowledge about the Indian jungle and will help you see the best possible things there without hurting yourself. Your trip will be well organized from start to finish, avoiding any high charges, and that means that they can give you the best price possible.
As you can see, Goa can offer so much. There is no matter how old are you or what you want to do. There are activities for people who want to relax, and there are other for the people who want to try every possible new thing they can during their stay.
There is one thing we're sure about, and it's that you'll never get tired of Goa no matter how many times you visit it.
We hope you enjoyed our must-do list, and if you would like to be a part of our yoga retreat, you can just click here to check the complete schedule and apply now!
Do let us know which one is you enjoyed the best in the comment section below.